Pond And Lake Construction
CONSTRUCTION OF STEPPING STONES ACROSS A LAKE TO AN ISLAND
The lake was first dammed off and a concrete footing laid through the centre of the dam.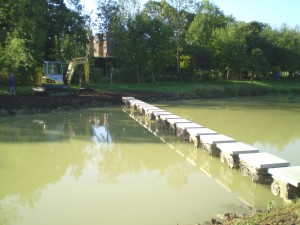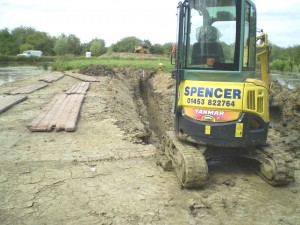 Reinforcing bars were used to locate the pillars which were cast in situ. The tops were cast off site to form the Roman flutes which may be just visible once installed.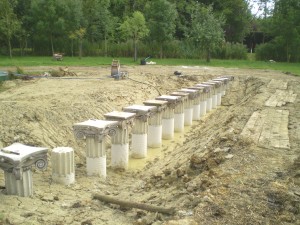 Pillars in situ, Capitals in place, dowelled with 25mm diameter stainless steel pins.
Once all the Capitals are in place, cut sandstone slabs are fitted to the tops to create a wider step, with a smaller gap between. The dam is then removed.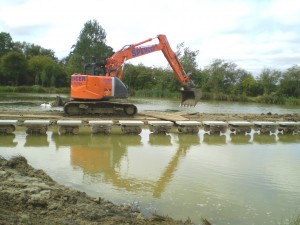 Close up of the finished stepping stones with the Roman flutes just visible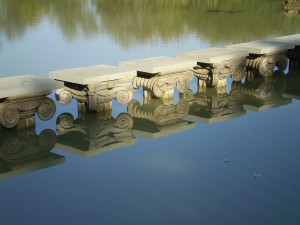 Completed pond for Flamingo's at Slimbridge Wildfowl and Wetlands Trust.
The piling in the background is plastic, with Coir anti-erosion coils on the bank in the foreground.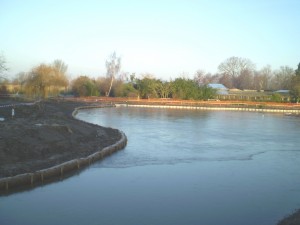 Other edges are reinforced with concrete where birds regularly walk in and out.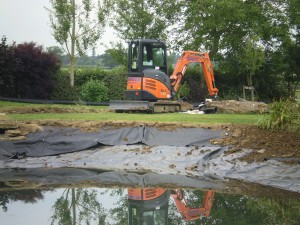 Garden Pond
Digging out with a mini digger and
lining with a 0.75mm liner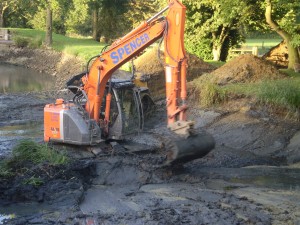 Clearing out about 2 metre depth of silt from an existing Lake using 13 Tonne Excavator and tracked dumper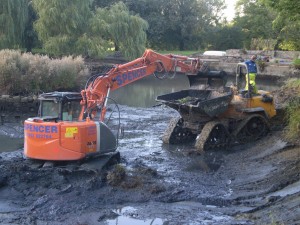 Tracked dumpers used to reduce the damage to the pond bed as well as the surrounding ground.