Landscaping
A leaking dam required repair and a solution was derived by our team that saw the need for steel piles to be pushed into the ground to a depth of between 3 and 4 meters. Concrete was then poured behind the steels, which was in turn topped with stone for effect. Once filled, the steelwork surrounding the dam completely disappeared with only the stone wall showing.
Stanway House near Tewkesbury saw the employment of our specialist low ground pressure tracked dumpers for the construction of their latest spectacular water feature.
2 metres depth of silt was removed from the site to form the basis of the fountain and a complex network of piping and connections between the feature and the reservoirs was needed before the tap could finally be turned on!
The nozzle is 63mm diameter, fed by 2km long 315mm PE pipeline, which reduces down within the last one metre. This in turn is supplied by a new 120,000 gallon concrete reservoir located in a field with a vertical head of 175 metres (17.5 bar pressure!!!)
WWT Slimbridge
Construction of a new boardwalk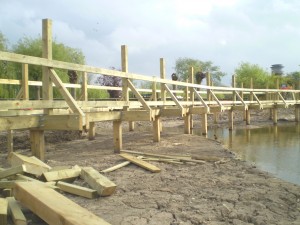 Nearing completion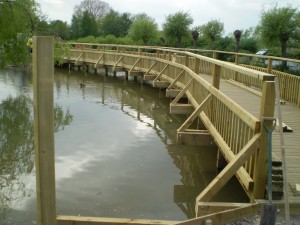 Completed boardwalk following refilling pond with water