A little more information…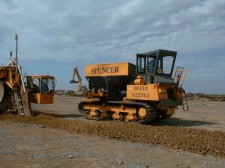 D.E. Spencer & Sons (UK) Ltd are a small family run business employing around 20 people. Based in Nupend, Near Stonehouse in Gloucester, which is about 1 mile from Junction 13 M5, we have carried out contracts both locally and nationally for over 40 years. Originally carrying out Land Drainage schemes during the 1970's and 1980's, Spencers have diversified and now offer a much wider range of specialised services.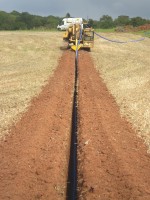 Works undertaken now cover a wide range from agriculture, pipelines, large and small, equestrian arenas and gallop construction plus all types of trenching. D. E. Spencer & Sons (UK) Ltd also specialise in pond and lake construction and clearing, as well as environmental and wildlife area construction and landscaping.
All servicing and repairs to equipment are carried out in our fully equipped workshops, and our specialist items of plant are also purpose built in our Gloucestershire workshops. For on site repairs and enabling us to offer a complete package to our customers, our own specialised 4WD mobile service vehicles are on call to deal with any problems that may occur.
All operators have CPCS cards and have many years experience in this industry. We undertake an ongoing training schedule, including Streetworks, Manual Handling, First Aid, Small tools operation etc.
We are accredited by EXOR for their stringent Health and Safety system, membership number VU0945, and also approved by Gloucester Trading Standards as part of their Buy With Confidence Scheme.