Ground Works
CONCRETE RESERVOIR
The full installation of the 'Stanway Fountain' water feature required the installation of a 120,000 gallon reservoir in order to meet its supply demands. In addition to this, D. E. Spencer & Sons (UK) Ltd were also commissioned to lay 2km of 315 HPPE pipework to connect the two which involved laying the pipe through trees and across fields. The end result was a fully integrated and functioning water feature that has drawn many visitors to the grounds.
The reservoir pictured is located 175 metres above the fountain nozzle. There are four 315mm oulets from the base connecting to one 315mm pipe which continues over the two kilometres down to the Lake.
STORM WATER PIPELINES
This installation of a 600mm PE pipeline is for pumping out Quarry rainwater. The lagoon had to be kept clear for cleaning out with a loading shovel. The mountin brackets are purpose made and galvanised.
PLASTIC KERBING
New plastic kerbs laid around an extension to an equestrian yard, these kerbs are 'kinder' to horses whilst performing and looking like concrete.
DRIVEWAYS
Earthmoving for a new driveway, soil was taken from a bank on one side and used to fill the lower side, creating a new wider avenue with equal width verges and now planted with Lime trees on both sides. Overhead telephone and electric cables were also relaid underground in ducts.
Before and after
Cattle Grid Installation
This 40 tonne capacity pre cast cattle grid is installed within a public highway for a loca Authority, installation is carried out in just one day.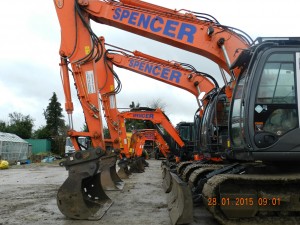 All machines are zero tail swing and all are equipped with blades.
13 tonne machines have height restrictors for use when working near overhead cables.